Your restaurant menu
interactive
& take out orders
Discover our complete solution
Give your customers immediate access to your card from their smartphone
A simple QR code to offer your customers a digital menu.
Your menu accessible at any time, and respecting the sanitary rules.
Modify your menu in 1 click from your customer area.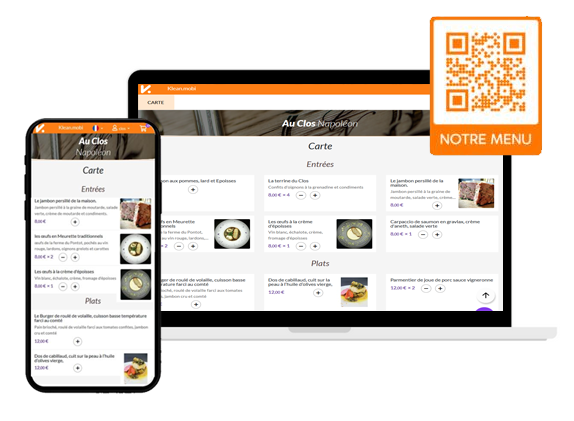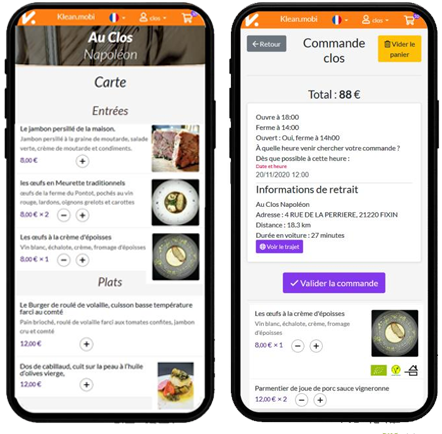 Simple and without breaking the bank!
Your own click & collect sales platform
Klean & Collect allows your customers to order online directly and collect their order on site on the date and time chosen.
Your accessible menu
Your interactive menu in all languages automatically and instantly
A super fast app
Real-time update
Page load less than 200ms
Compliance with government standards
Entering customer information
An economic stake
Less paper cards
A simple update
A validated application
by tens of thousands of users
An ecological issue
Fewer prints on paper
Click & collect
A site for taking orders online
Continuous growth
The number of establishments using Klean!
Klean!

est sans engagement !

Pas de CB requise, formule gratuite disponible (sans traduction, avec publicité)

Bronze Pack
0€
/mois
---
Your menu / interactive card Unlimited products Your QRCode Free! With advertisements
Silver Pack
19€
/mois
---
Your menu / interactive map Unlimited products Your QRCode Automatic translations in 7 languages
Gold Pack
49€
/mois
---
Your menu / interactive menu

Unlimited products

Click & collect module (take away)

Your QRCode